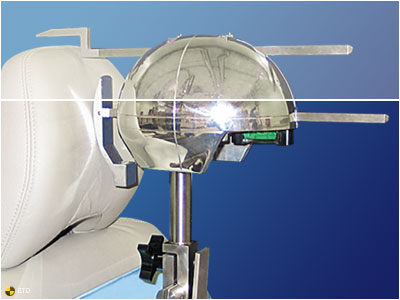 Head Restraint Measuring Device (HRMD)

Soft tissue neck injury is the most frequent type of injury sustained in motor vehicle crashes.

Many of these injuries can be prevented or mitigated by an effectively positioned head restraint.

To be effective the head restraint must be both of adequate height and close enough to the back of the occupant's head.

Many head restraint designs, especially adjustable restraints, fail in one or both of these requirements.

The Head Restraint Measuring Device (HRMD) is designed to give accurate and repeatable measurements of head restraint position.

It attaches to our S.A.E. three dimensional H-point machine and provides 50th percentile male measurements for both height and setback of head restraints.

The H-point machine is installed in the vehicle according to normal procedures.

The HRMD is then mounted on the H-point machine and the neck joint adjusted to level the headform.

The two probes are then used to measure head restraint height (to the top of the headform, or extrapolated to determine distance up from the H-point or the compressed seat cushion).

The second probe is used to measure the amount of setback between the head and head restraint.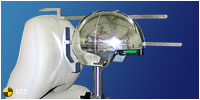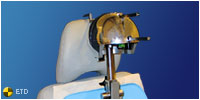 Our Address

ETD


Owner:

Robert Berwick
Vossn Weg 4,
Hittfeld,
D-21218 Seevetal


Germany


Fon +49 (0) 4105 2008 /9
Fax +49 (0) 4105 2000
ISDN +49 (0) 4105 635120
Mobile +49 (0) 173 928 4925